Dev Post 69: Happy New YÆr!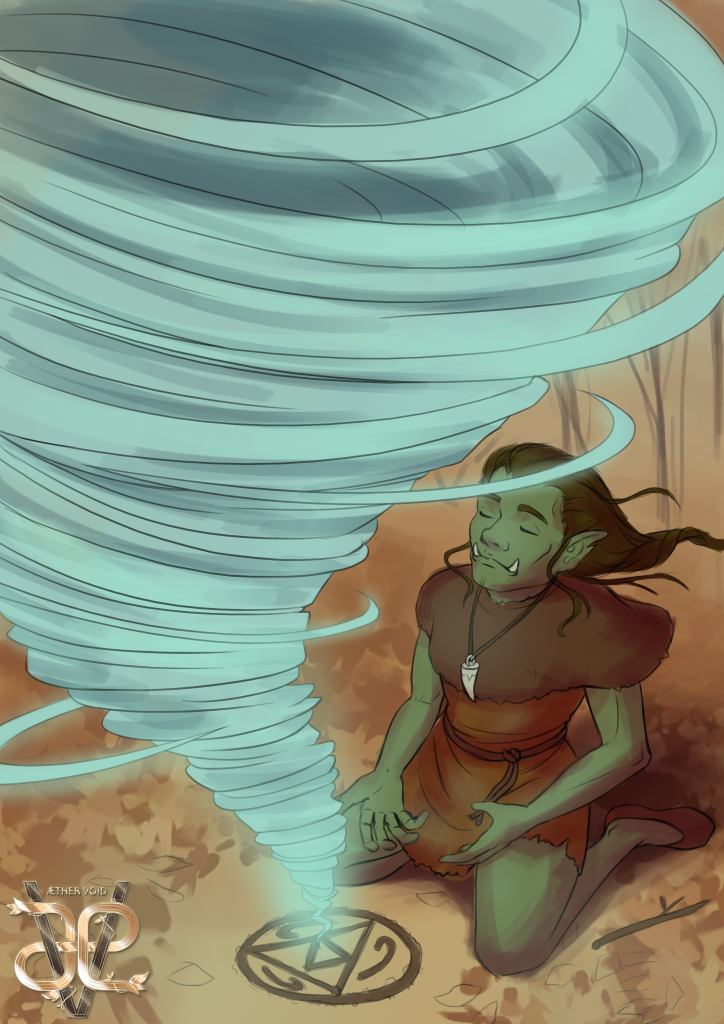 January 3rd, 2020
We hope you all had a lovely new years eve, and that you've still got all your fingers, because you'll need them to #TossACoinToYourWitcher and to us as well. We'll have the new and updated version 0.4.2 of our beta oneshot adventure up on our Discord server in a couple of days. It's completely free, so be sure to grab a copy and let us know what your thoughts and opinions are!
Dev Post 70: Send help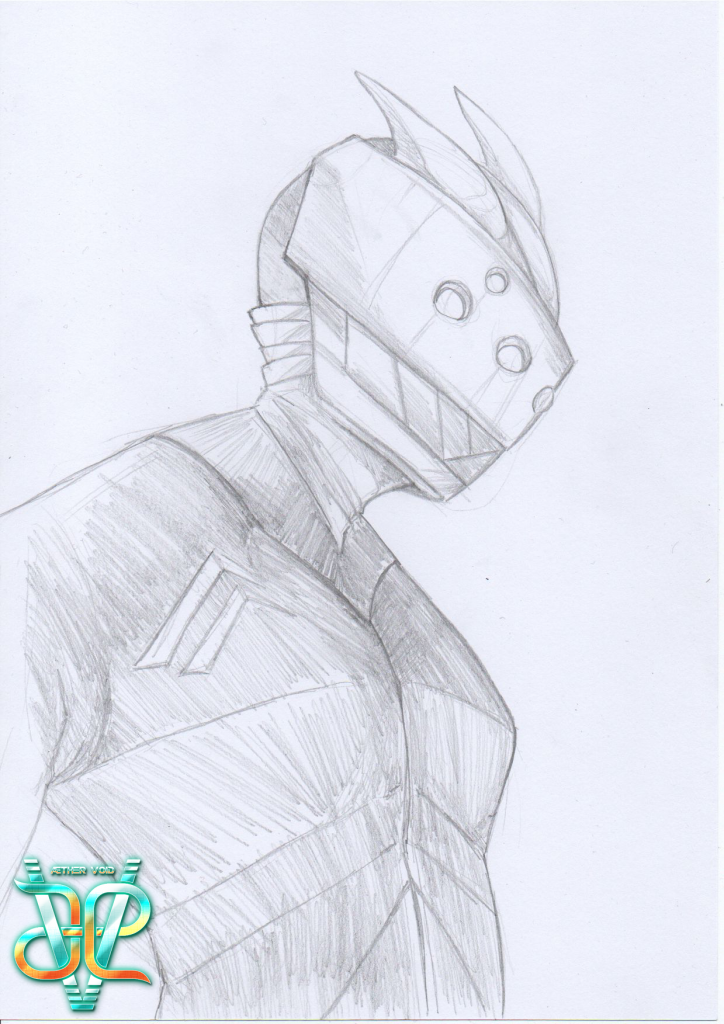 January 10th, 2020
It is said that the Æther Void team planned to release the 0.4.2 version of their beta oneshot today. However, due to some last-minute feedback from a team member who shall remain unnamed, said version of the starter is not yet ready to be released. So now we are going to pressure our designer into rapidly implementing all this feedback by stating that it will be released on Sunday. We shall see. This public announcement was brought to you by some sabotaging technocrats. They can be defeated in the oneshot.
Dev Post 71: Falling mechanics & feedback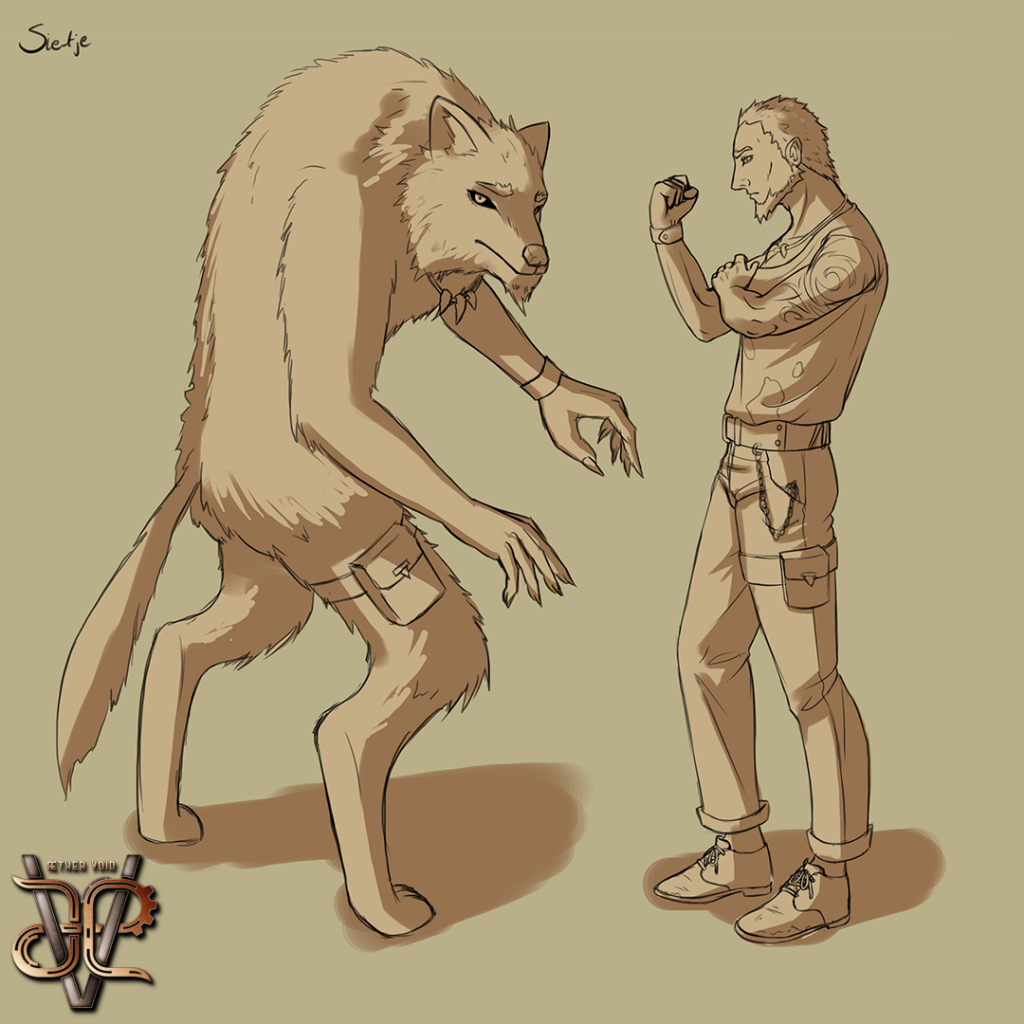 January 17th, 2020
Our discord has been very active these last couple of days. We had several insightful conversations with other tabletop enthusiasts who are looking to help us. Meanwhile, the oneshot adventure is being finalized and is set to release next week (we apologize for the vagabond criminals taking control of our broadcast last week). We are also working on falling damage and are adding magic-users to the bestiary.
Dev Post 72: The Re-Return of the Ancients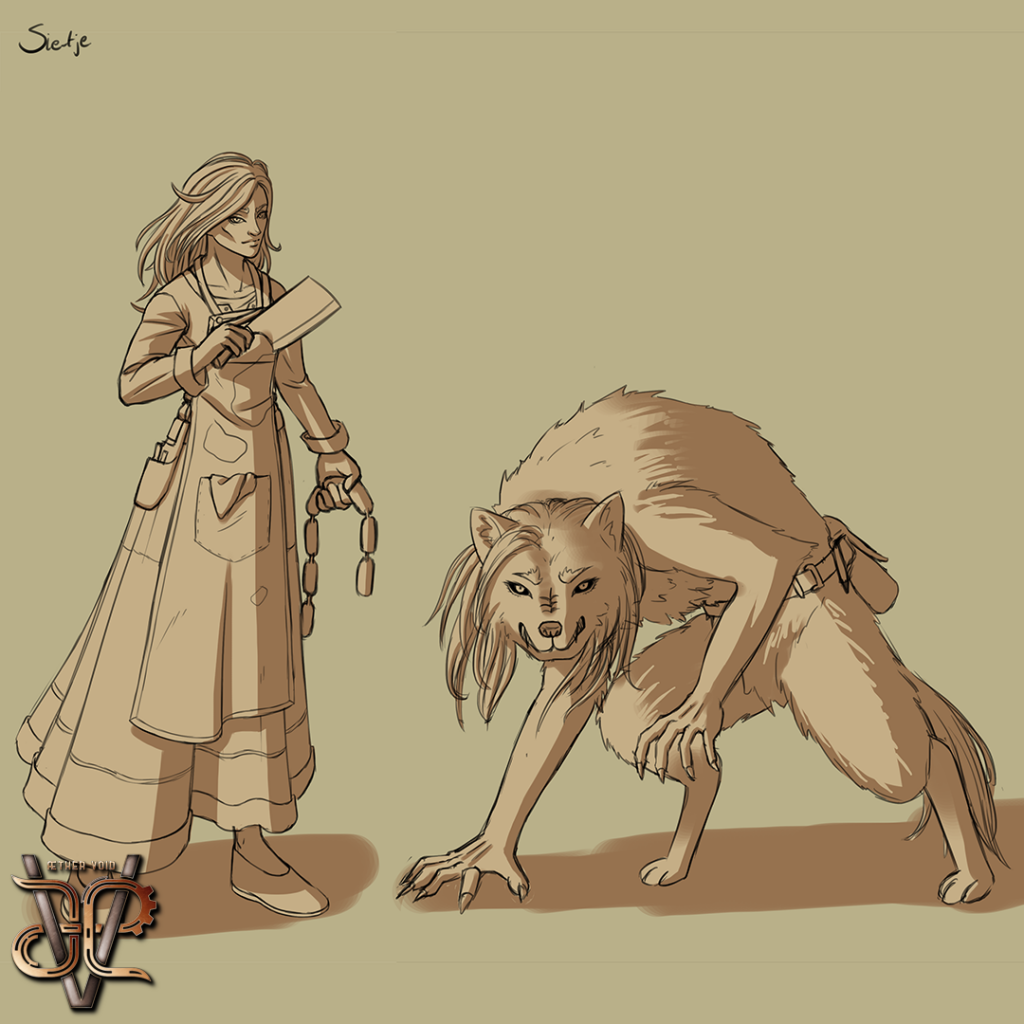 January 24th, 2020
Version 0.4.2 of our oneshot starter adventure is, after many trials and tribulations, now ready to pick up! It is completely free and can be found on our site, discord, and will soon also be available on drivethruRPG. Within this oneshot, we give information about each genre, world, its races, and our ÆGIS system. Obviously, it also includes a small adventure and several premade characters. Come on over, say hi, and let us know what you think! We are looking forward to it.
Dev Post 73: Changelog and Classes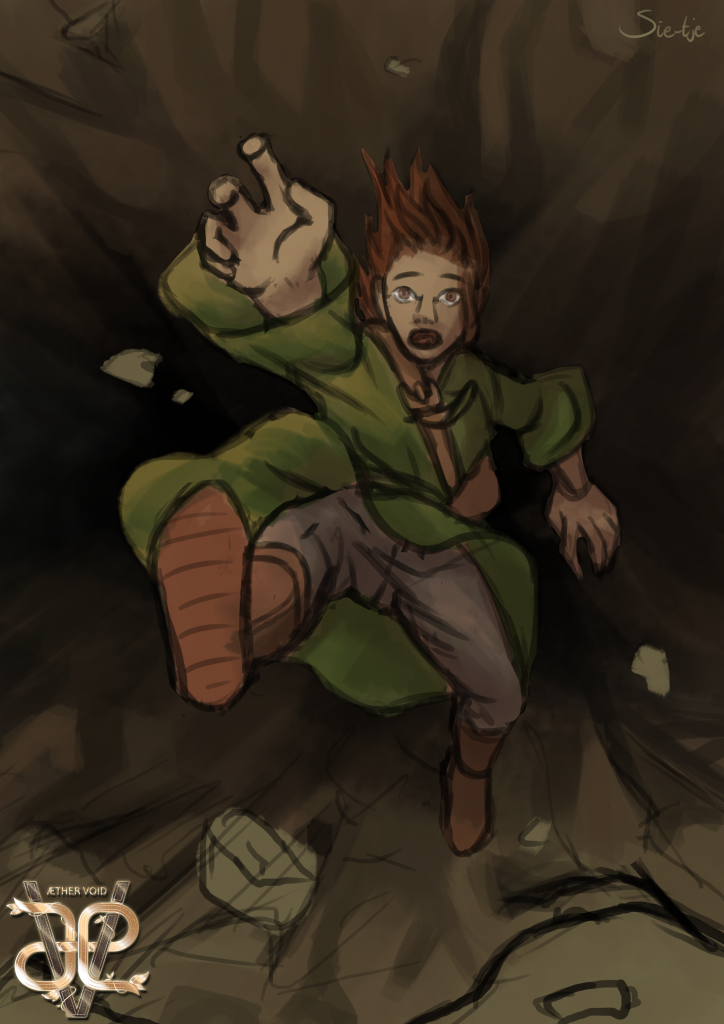 January 31st, 2020
Following the 0.4.2 release of our oneshot starter adventure, we've updated the changelog with everything that has changed. If you're subscribed to the Æther Void mailing list, you'll have received an e-mail with the updated oneshot starter adventure! Although Æther Void is designed to be played classless (ha!), we are currently working on the premade classes for Sleeping Dragon, and hope to visit Gary Con once more this year!
Dev Post 74: Oneshot, twoshot!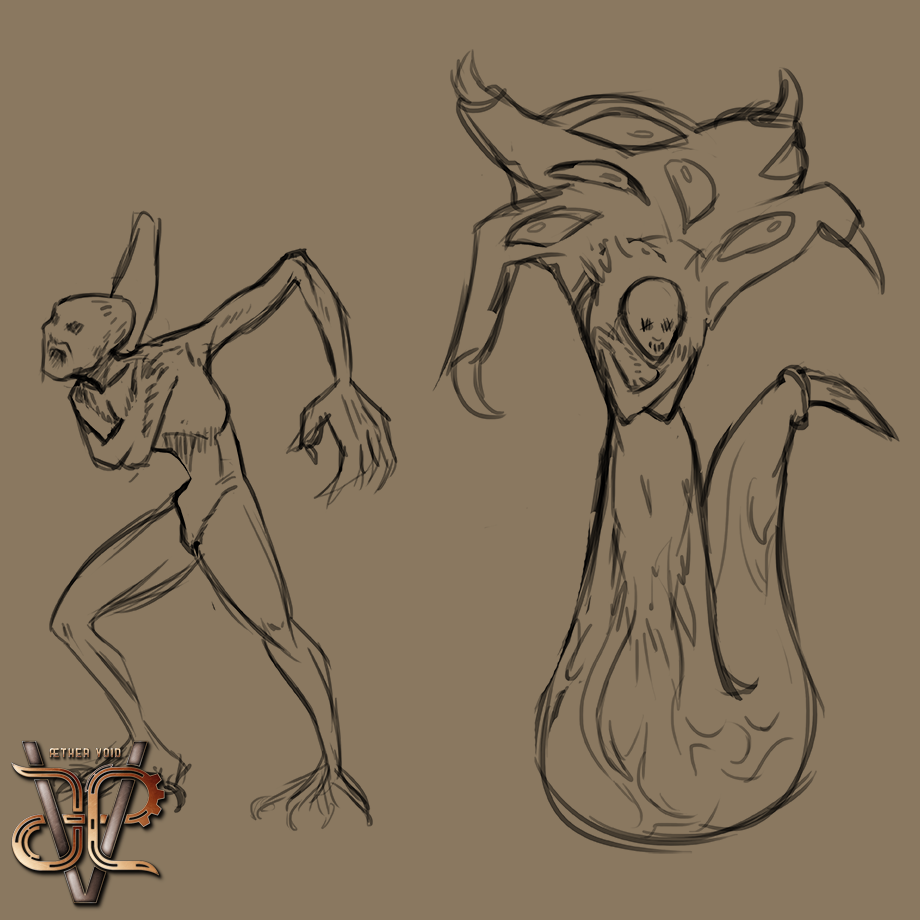 February 7th, 2020
We are working on a sequel to our oneshot adventure Return of the Ancients. With version 0.4.2 finalized, it feels good to go back to the storytellingboard and come up with an awesome adventure for you guys to play. It won't be mandatory to have played and completed the first adventure, though we highly recommend it in order to get the full experience! Æther Void will also have its very first official intern to help us out soon.
Dev Post 75: Happy Valentines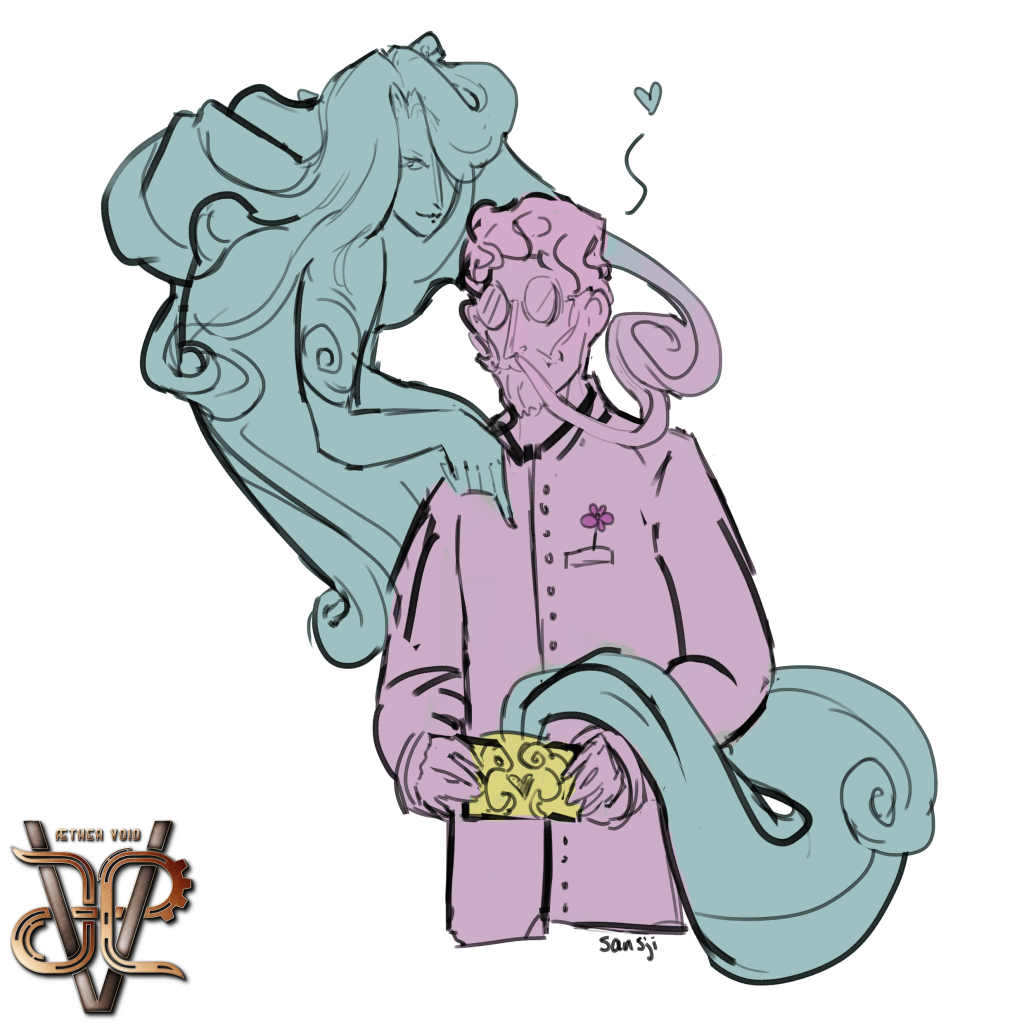 February 14th, 2020
Happy #Valentines day! We would love to see some #ttrpg inspired Valentine limericks, we'll start:
There once was an odd para-scientist
Who conjured a demon from love-mist
A vapor she was
He inhaled her thus
They blissfully now co-exist
Dev Post 76: Work work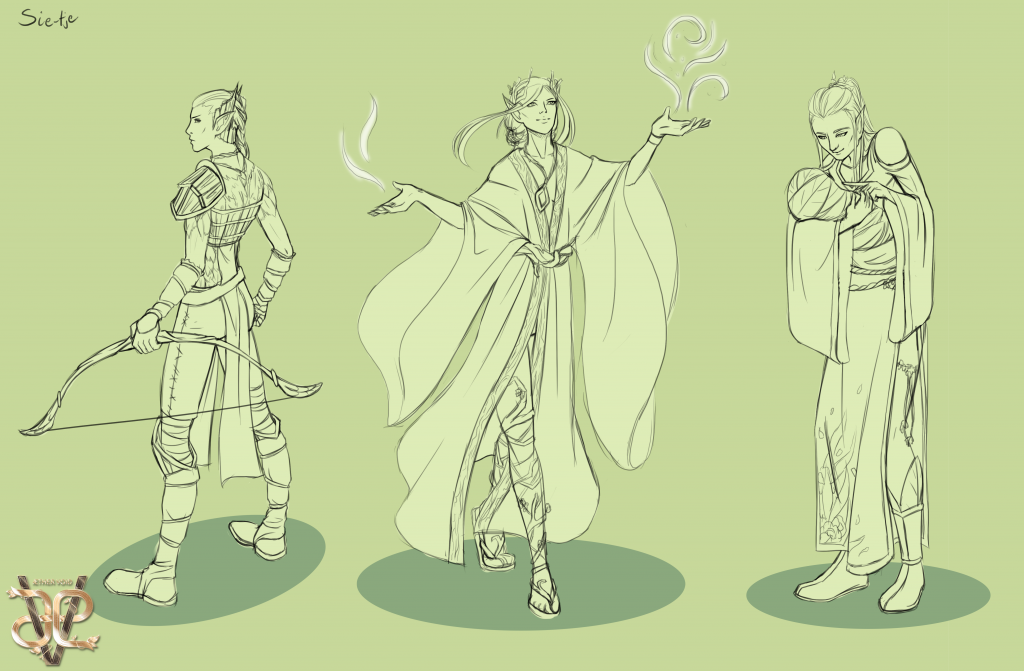 February 21st, 2020
The sequel to Return of the Ancients is starting to take shape. Between an engaging story and challenging quest, this adventure will also be the gateway to visiting Victoria and Sleeping Dragon. Our intern is already a great help, and we're excited to work with him in the months to come. He'll, of course, join our playtest sessions as well, so be on the lookout for a new character to join Amélie, Artorias, Talus, and Tomás next week.
Dev Post 77: We're going to GaryCon!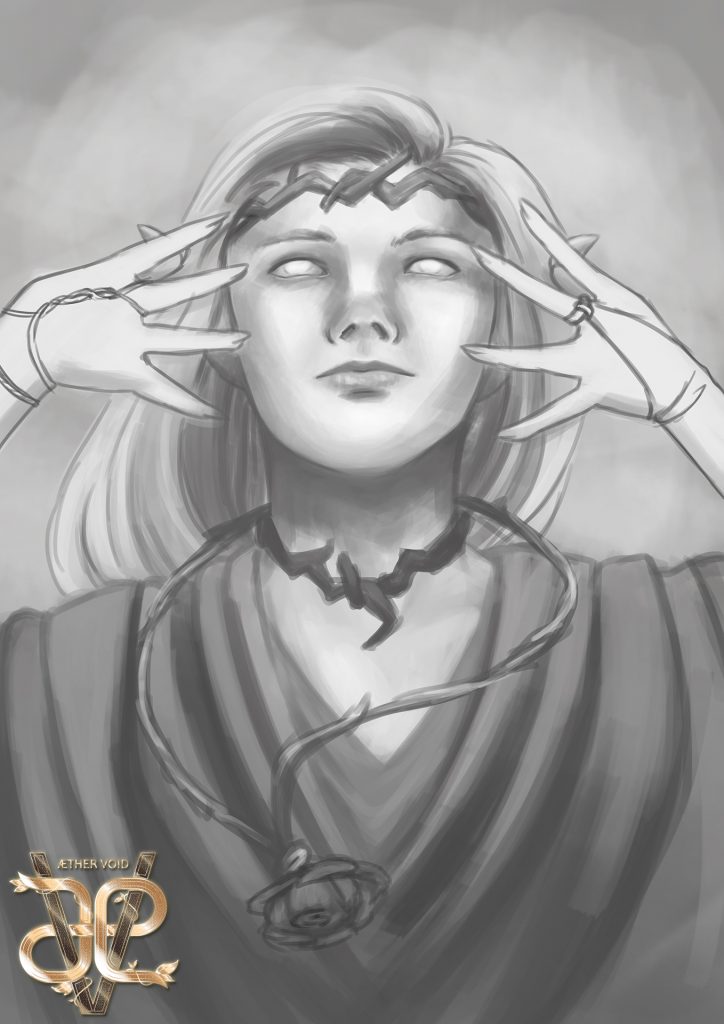 February 29th, 2020
We are happy to announce that we were able to get funding, so we will be visiting GaryCon in march this year! We are excited to play the latest version of Æther Void with you guys, and are looking forward to hearing what you think of the new adventure.
Dev Post 78: Getting Galactic with maps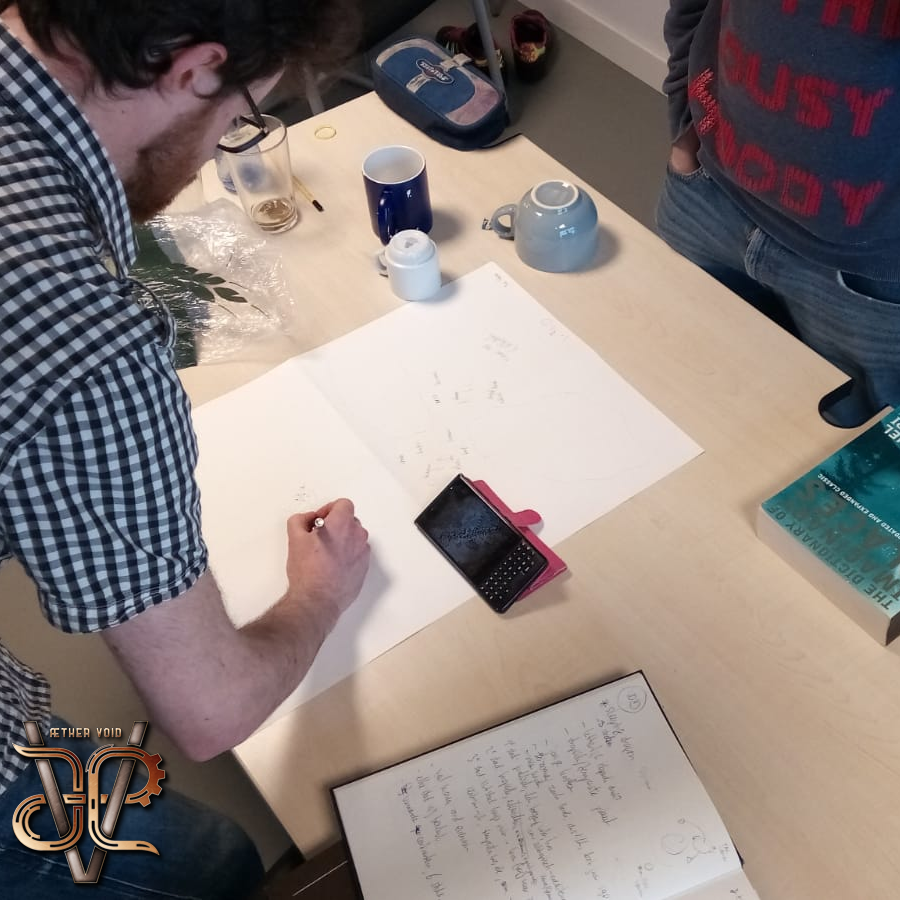 March 6th, 2020
Today we've had a workshop to help us get going on working on the actual maps of the worlds and everything that comes with it. Cups became rotating planets, sizes have been determined, and we're on our way to creating fully mapped out worlds. Check out Sebas van den Brink for amazing maps and designs, he's been a great help and we are excited to be collaborating more with him in the future!
Dev Post 79: Sequel Oneshot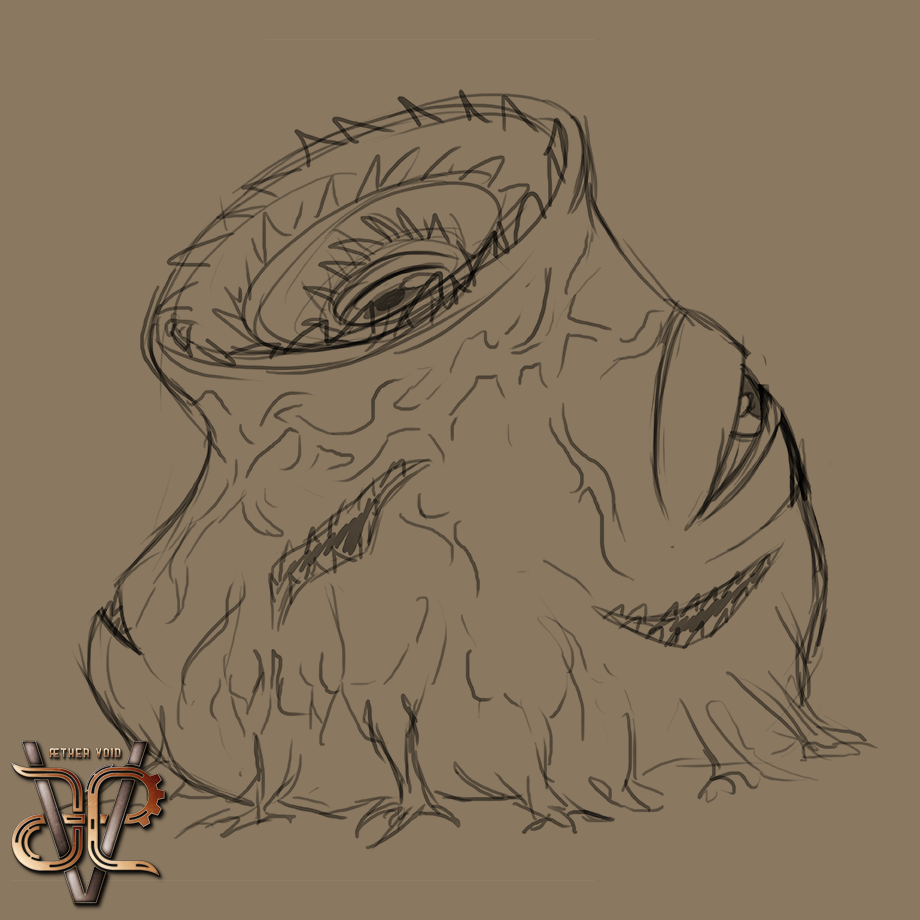 March 13th, 2020
Sadly no Garycon for us this year due to closed borders and virus. Anyways, today we continued working on our second oneshot (which is now nearly finished). This oneshot will take place on a secret Technocrat hideout near Far Haven! Will you be able to escape?
Dev Post 80: An Update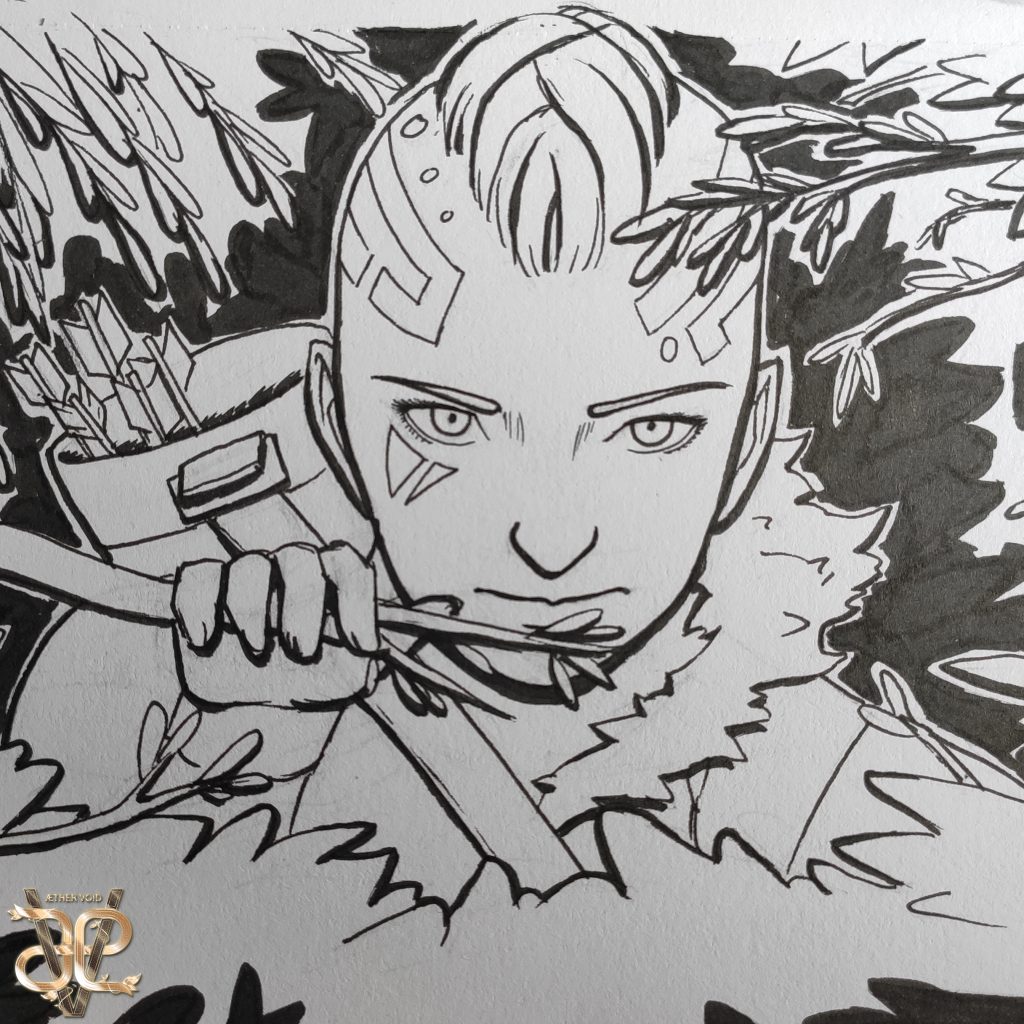 April 3rd, 2020
It's been an odd few weeks, with more odd weeks yet to come. Due to working from home, there'll be fewer dev posts, but don't worry, we're still making progress! We are currently styling our second oneshot adventure in InDesign, creating an overview of which skills correspond with which ability scores, and making playlists to listen to during your sessions!
Dev Post 81: Back to Devposting!

June 26th, 2020
Been a while since our last update, but we've been steadily making progress. Anyways, ever feel like you could use an upgrade? We're currently exploring the possibilities for cybernetics in Æther Void. When you want cool new abilities or to change your looks (no need for loot boxes!), cybernetics are what you need! We're eager to playtest these features and hear what the community thinks (so share your ideas)! Speaking of upgrades, the Æther Void Team has recently welcomed a new colleague!
Dev Post 82: Don't Wake the Sleeping Dragon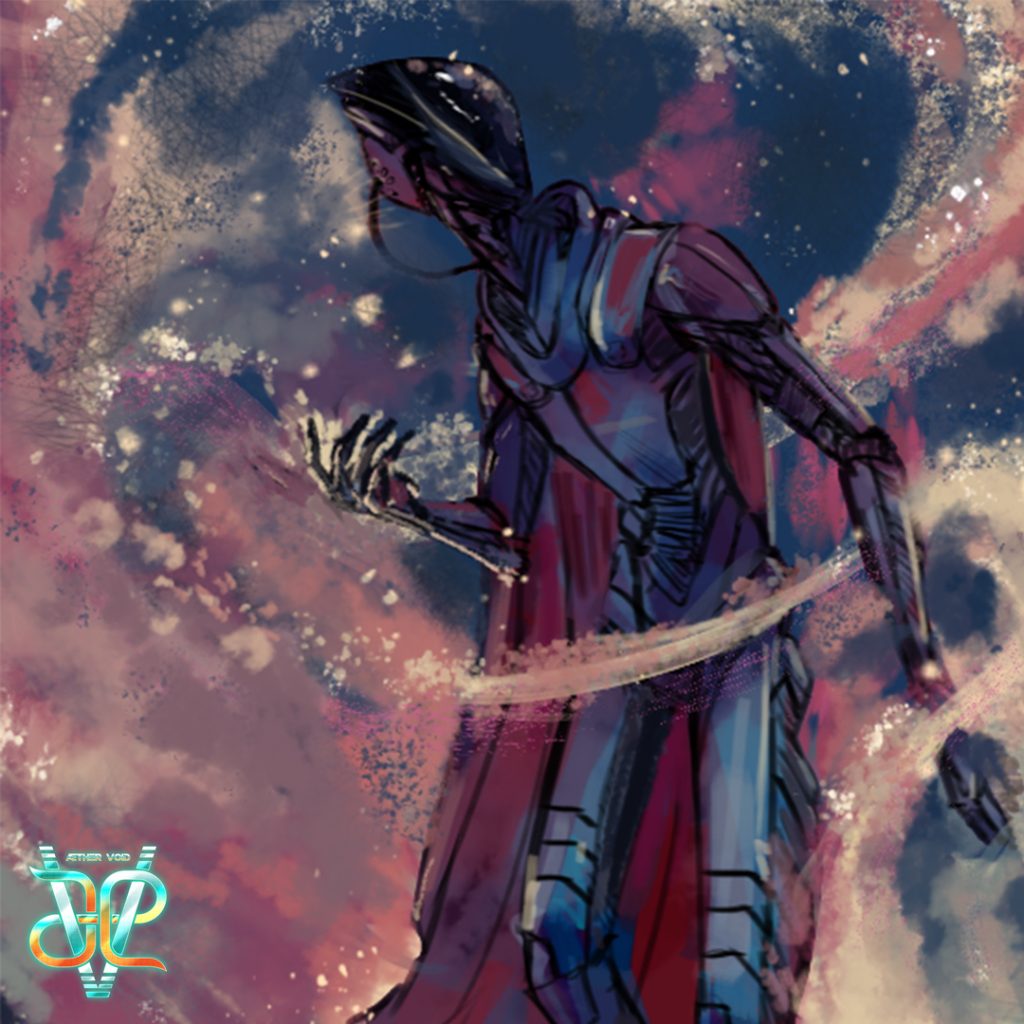 July 3rd, 2020
Tonight we'll be playtesting a new campaign, taking place on A.Isle on Sleeping Dragon (our Sci-Fi world). But before we can start, we first need to take a look at (starting) equipment, currency, and characters. We'll hope to share some updates on our Discord channel, Instagram, and Twitter. So stay tuned!
Dev Post 83: These are not the droids you're looking for
July 17th, 2020
We're always looking for different and unique droid designs for Sleeping Dragon. Currently, we have a droid in our playtest to figure out how we can create a balanced and playable race. But what kind of droids or robots would be cool to play? How would you visualize them? Feel free to share some cool droid art to inspire us (or your description), so that we can figure out how to portray them!
Dev Post 84: What the Hack?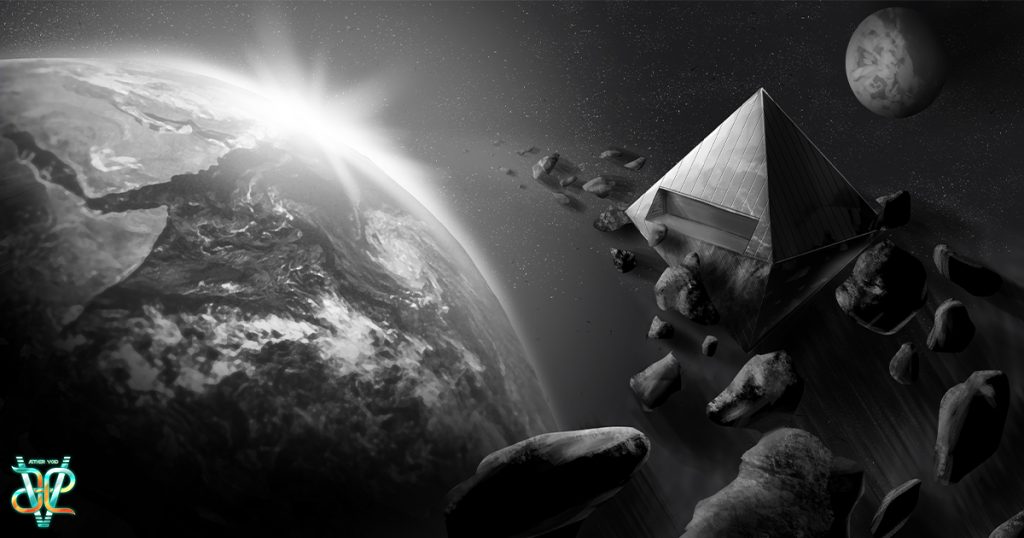 July 24th, 2020
In the past few weeks, we've been discussing how to implement hacking into Aether Void. What's realistic, fun, and what kind of game mechanics do we want to create? What are some technical and social aspects we should keep in mind? And of course, how common will it be? What would you like to see in hacking, either flavor or mechanics?
Dev Post Special: Æting Void
August 7th, 2020
It has been a while since the team had last seen each other, but last week it was finally time for a COVID-proof BBQ in the park! The weather was good, food better, and of course, seeing the rest of the team was best. Sadly our two artists both couldn't make it, so we are now 'forced' to have another pleasant BBQ with the entire team when circumstances allow it.
Dev Post 85: One-shot, two-shot!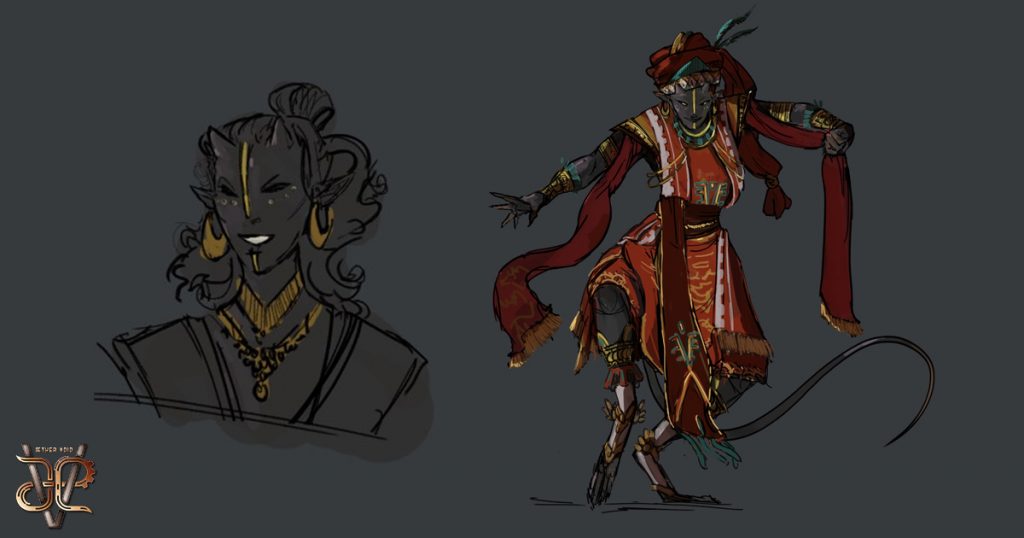 August 14th, 2020
In the past few weeks, we've been tinkering with the latest update to our free beta one-shot: Return of the Ancients. In addition to that, we've also been working on part two of the one-shot! Our writers are in editing mode, our artists are in overdrive, and the latest game mechanic updates are implemented by our tech wizards.
Not without good reason! We're very excited to announce that premium, full-color versions of the one-shots are on their way. The free black-and-white versions (both the current and upcoming one-shot!) will still be available, but if you'd like to support us, then keep an eye out for the announcement in the next few weeks!
Dev Post 86: Call to Adventure!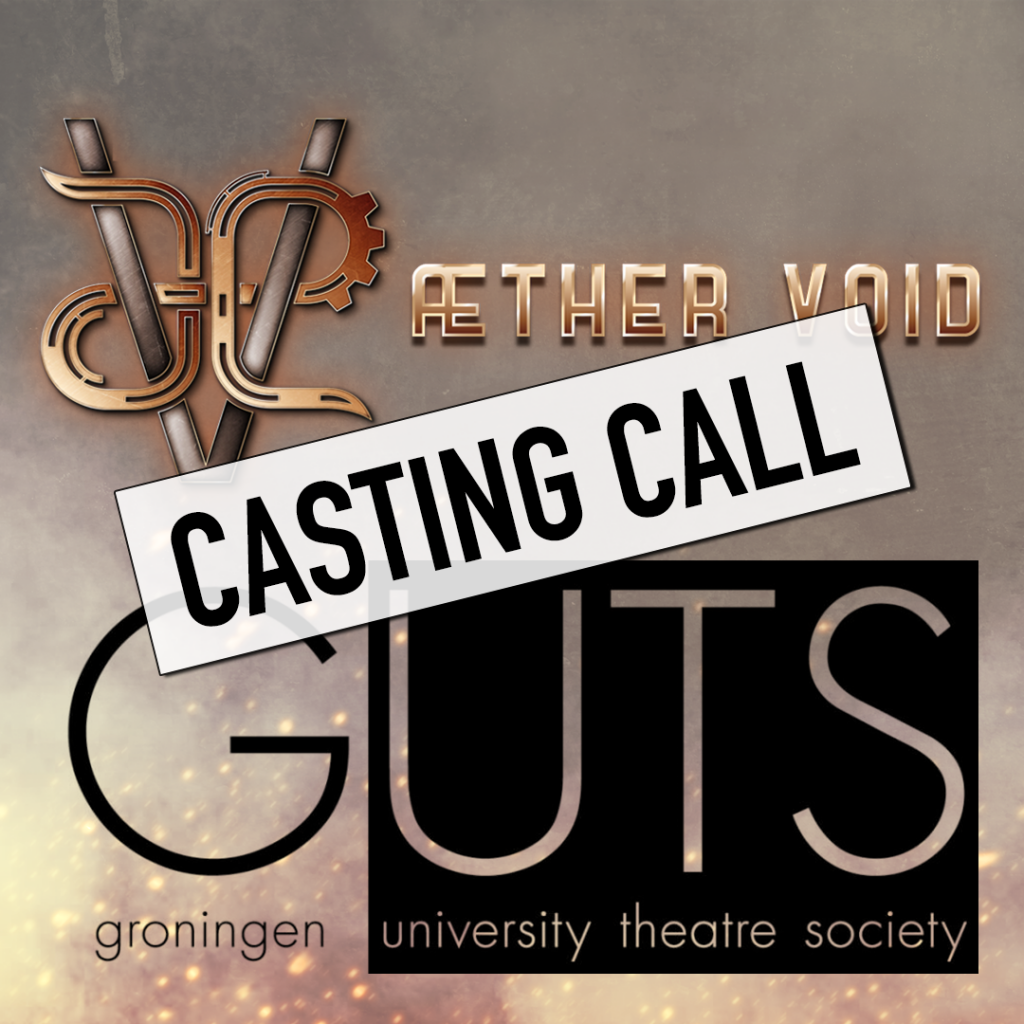 September 5th, 2020
Attention to all D&D and tabletop RPG fans! Æther Void is a new roleplaying game being developed in Groningen, and we're creating an actual play web series! If you live in or around Groningen (the Netherlands) and you have a passion for theatre, interest in roleplaying games, and a good grasp of spoken English, then we're looking for you to join our cast. And of course if you want to follow this adventure, and experience Æther Void's gameplay and ambience on screen, follow us for future updates.
Also a big thanks to @gutstheatre for collaborating with us on this project! Please check out their socials to see their content as well. The school year just started, and we're sure they're going to create some amazing theatrical projects!
If you'd like to heed the call to adventure and join our cast, sign up at: bit.ly/castingcall-signup (form is closed).
Dev Post 87: One Big Family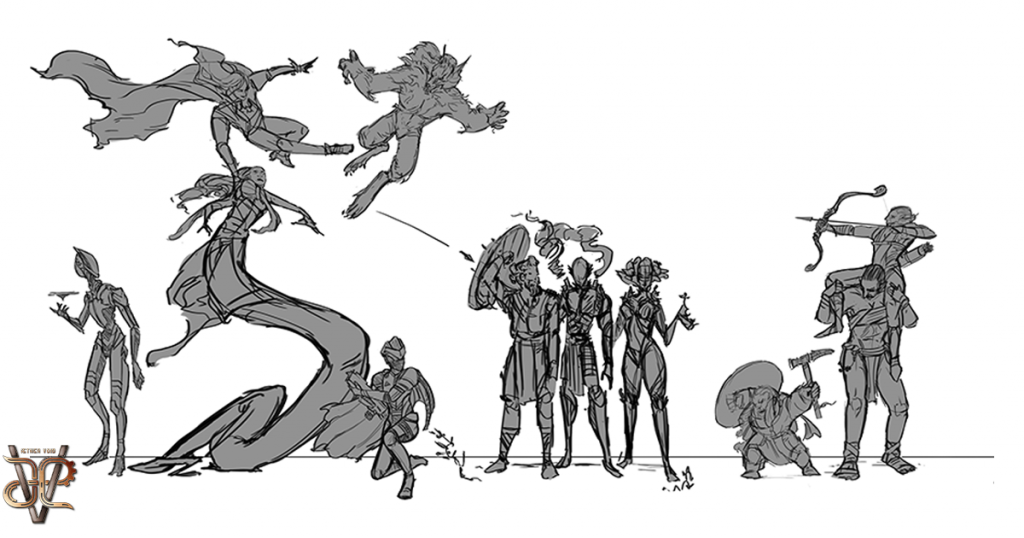 September 25th, 2020
Behold! The first sketch of our playable races together. These are the inhabitants from Far Haven, Victoria, and Sleeping Dragon. If you'd like to try playing one of them, you should try out our free one-shot. Or if you're just interested in their lore, you can find that in the document as well!
Left to right / top to bottom: Vampire – Werewolf – Bot – Lamia – Technocrat – Human – Clock – Dryad – Dwarf – Orc – Elf.
Dev Post 88: Mad Beasts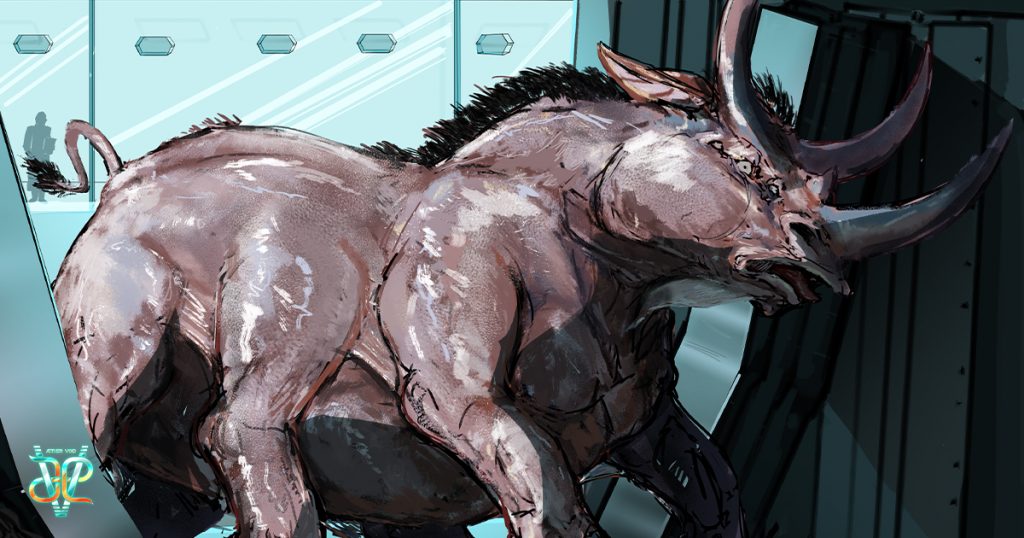 October 9th, 2020
One of the creatures you might encounter on the planet of Sleeping Dragon is the Rhinox. A creature you don't necessarily want to run into because few people live to tell the story. This mad beast makes an appearance in our upcoming adventure. The second one-shot will pick up where we left off in the first one, and it's currently in its finishing stage. So keep an eye out for that! And hopefully, you and your friends will live to see the day…
Haven't played the first one-shot yet? Download it here on our website!
Dev Post 89: Crash Course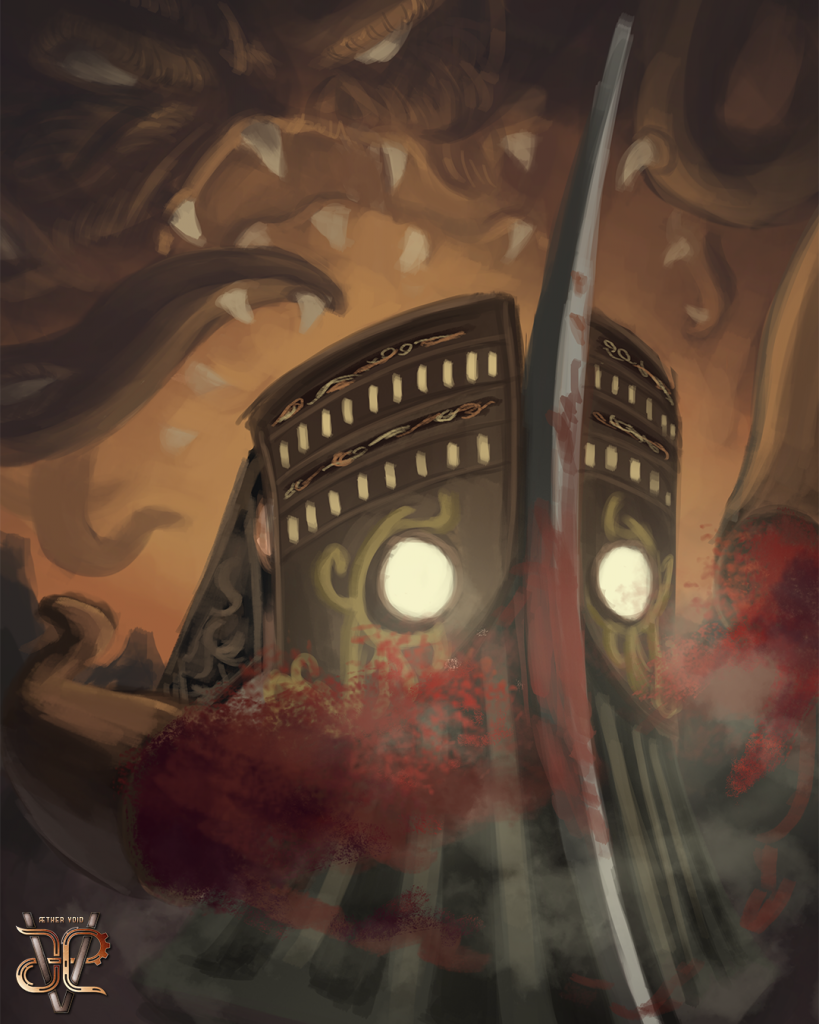 October 16th, 2020
Victoria is widely known for its dangerous landscapes outside the capitols. Horrors and demons of gigantic proportions lurk there. Thank the lord for the steam-powered trains running through those environments. They will blast right through those abominations if you want to get to another city.
Would you buy a ticket? Or would you take your chances without boarding one of the trains?
Dev Post 90: Winter Blues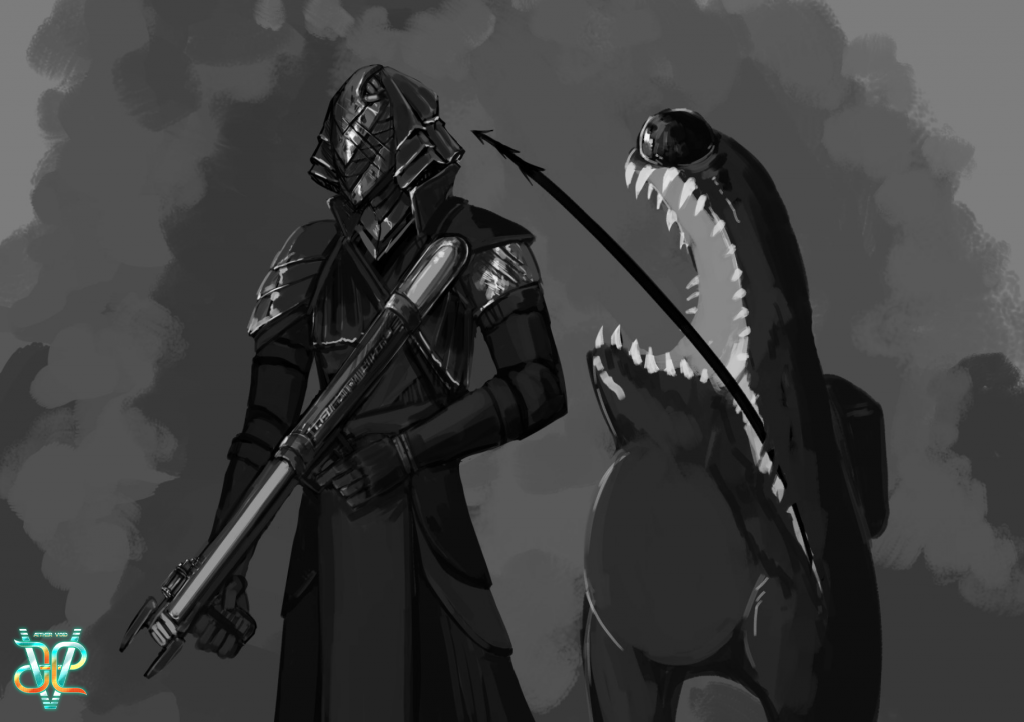 October 23rd, 2020
Seasons change, the winter blues are almost upon us, and some of us are a bit tired (probably like the rest of the world). But we're still here, we're still making progress, and we're doing a bit of teambuilding! We suspect that Among Us might be the impostor, but we're not sure yet.
So how is the rest of the world holding up in this strange time?
Dev Post 91: Power Hour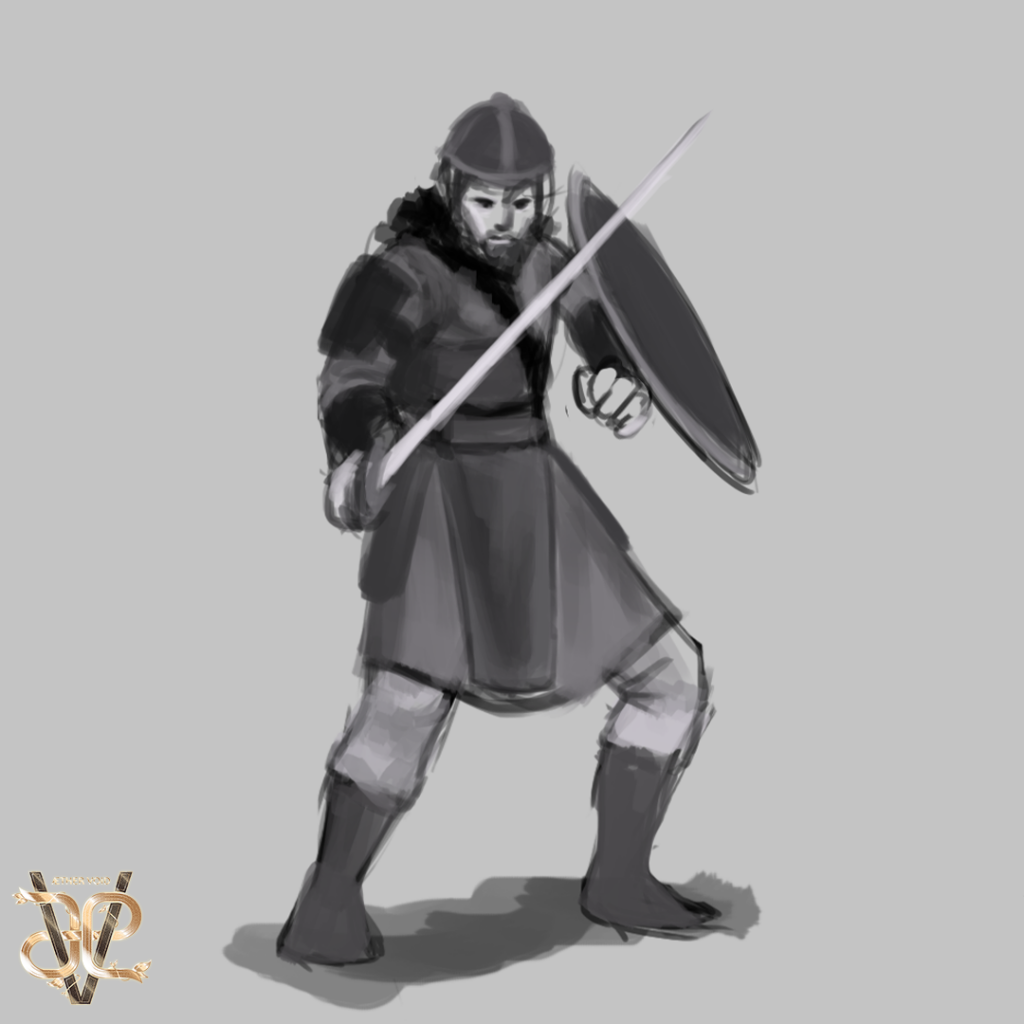 November 6th, 2020
Today after our weekly online meeting, we had a Power Hour for game mechanics to refresh our knowledge of Aether Void! This afternoon we went over the workings of stats and skill checks. Next week, we're planning on picking up combat!
Also, some of our team members are participating in NaNoWriMo as a side quest this year! Are you participating? If so, what will you be writing?
Dev Post 92: Teamwork Makes the Dream Work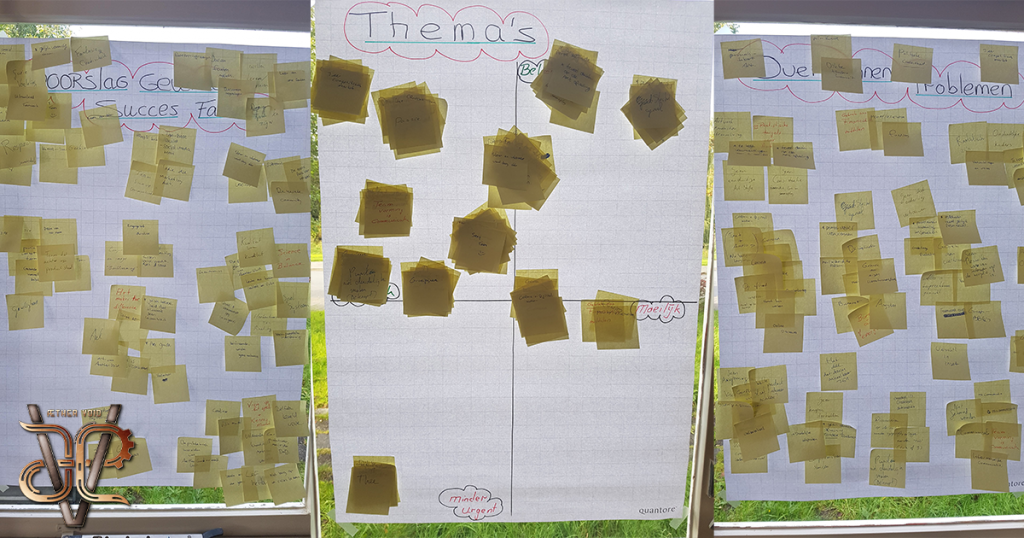 November 13th, 2020
Last Saturday, we had our final team building session. During the two sessions we've had, we rejuvenated our passion, aligned our visions, and brainstormed for the future. Working from home has been tough on us, like many other teams out there probably, but we're making the best of it!
How have you guys been working on your projects during these trying times?
Dev Post 93: Mythical Playable Races And Where To Find Them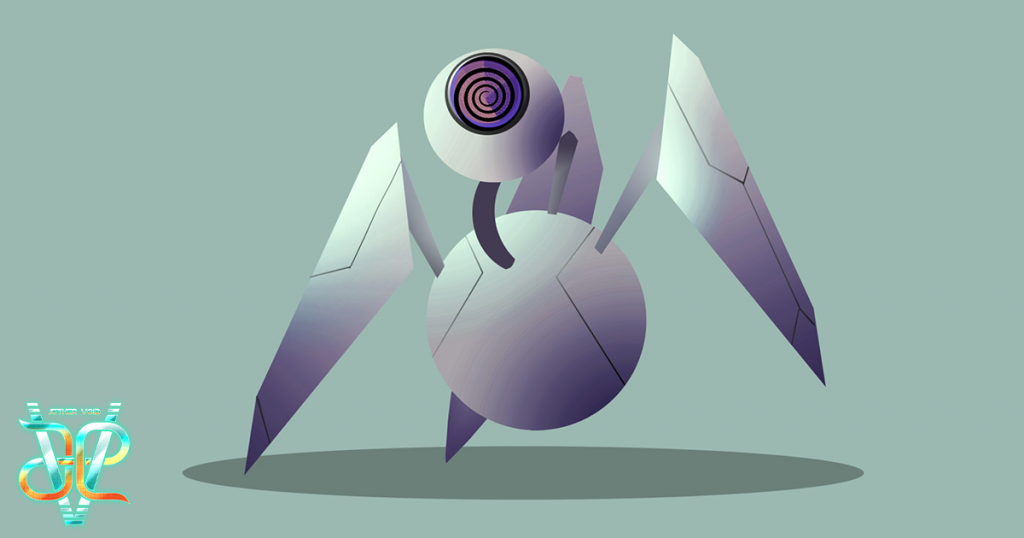 November 20th, 2020
During our meeting, we brainstormed possible playable races for in the future. One of our members instantly had 30 concepts, and she's still going. We can't stop her. Please send help.
Dev Post 94: Fleshing Out Flesh Clocks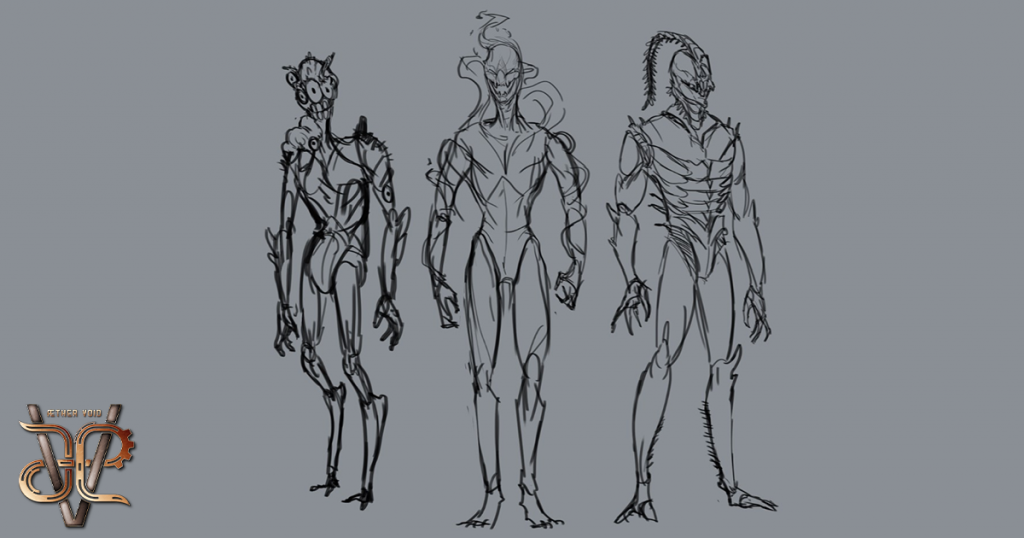 December 12th, 2020
The past week, we've been fleshing out flesh clocks for Victoria. Flesh clocks are a playable race, but there was still a lack of art. So low and behold, have some cool concept art!
What kind of Frankenstein creations would you like in your game?